Military ship models 1:720
---
Sort by:
Top sellers
New
Price ascending
Price descending
Filter
---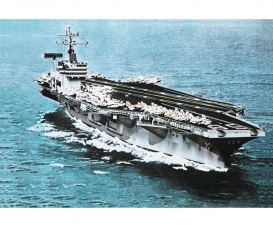 Military ship models 1:720
1:720 USS Nimitz CV-68
510000503
Article number: 510000503 Product: 1/720 USS Nimitz CV-68 Model Dim.: 46,2 cm Decals for one version After several years of construction, the Nimitz was launched as the second nuclear aircraft carrier of the US Navy in 1972. With a maximum displacement of 94400ts, she is the worlds biggest warship. She not only has room for a crew of over 6000 men, but for about 100 aircraft as well. The defence power of the Nimitz consists mainly of radar controlled eightfold trench mortars type Sea Sparrow and of catapults.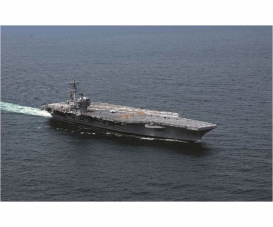 Military ship models 1:720
1:720 U.S.S. George H.W. Bush CVN77
510105534
soon available again
Article number: 510105534 Product: 1/720 U.S.S. George H.W. Bush CVN77 Model Dim.: 44,7 cm Decals for one version The U.S.S. George H. W. Bush (CVN-77) is the tenth and final Nimitz class "supercarrier". Entered in service on 2009, is the most updated evolution in terms of technology and weapon systems of its class. One of the world's largest warships, thanks to its displacement of 100,000 tons, it is powered with two Westinghouse nuclear reactors that permit, despite the impressive size, to reach 30 knots and to have a operating range almost unlimited. More than 80 aircrafts and helicopters are carried on board and are enable to enhance the military effectiveness of the warship. The "Bush" is also used for the development and testing of advanced weapon systems. On the deck of CVN-77, the first tests with unmanned drones, as the Northrop Grumman X-47B developed and designed for carrier-based operations, has been recently done.