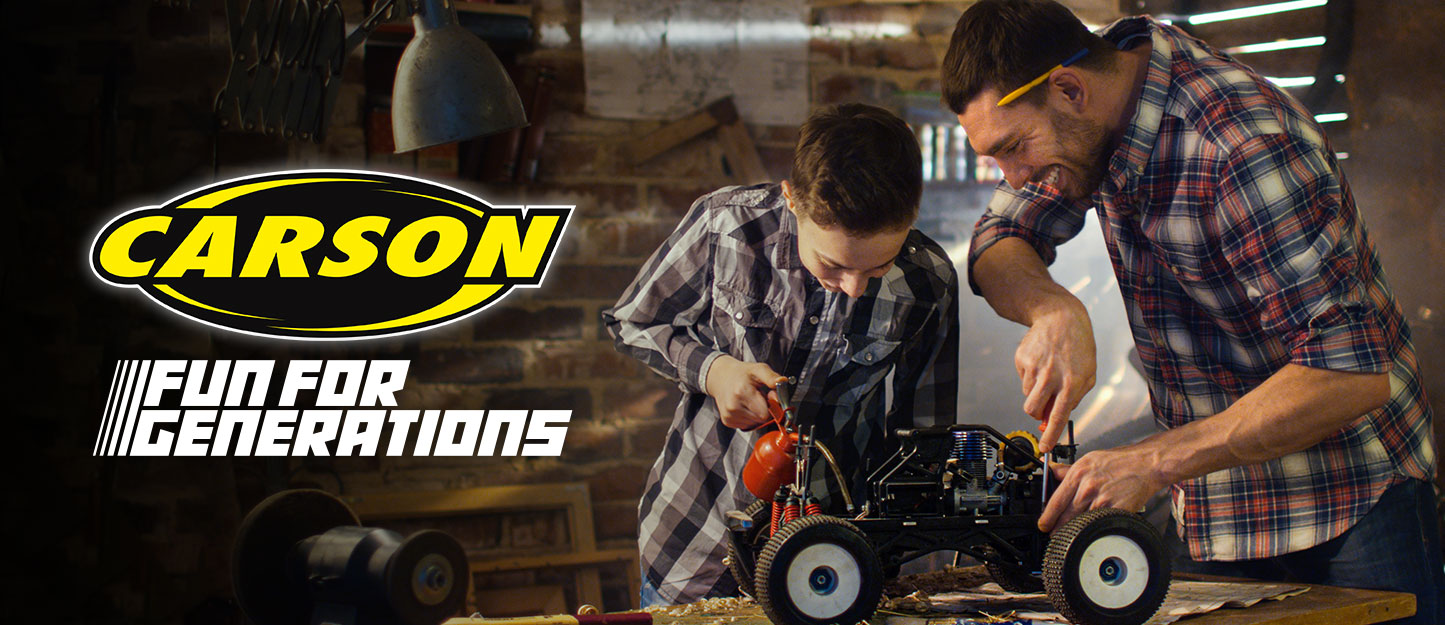 We make a difference!
CARSON, known among other things for its TAMIYA accessories program, has been offering high tech RC models in all scales since 1994, as well as a comprehensive accessories program for RC sports and RC model making. On top of the fun and action with largely fully assembled models CARSON models also offer unrestrained dynamics, which is reflected in the form of a GUINESS WORLD RECORDS entry for the furthest RC car jump. All this with an off-the-shelf RTR model!
Brand philosophy
We make a difference!
Under this motto, CARSON is a one-stop shop for all things RC sport and RC models. With numerous complete models which are comprehensively equipped, beginners of all functional areas are addressed, and innovative, multi-functional high end models appeal to ambitious hobbyists. The main features are a top price-to-performance ratio, tested quality and perfect service.
History
The CARSON Story
CARSON-MODEL SPORT was officially registered as a trademark in 1994 and initially supplemented the TAMIYA assortment of accessories. Shortly after, their first own models were developed to form a comprehensive, full assortment of RC models. In 2015 CARSON extended its range for beginners with attractive and easy to use products of the newly created brand CARSON RC SPORT.
Production
Quality and safety
CARSON produces and works with quality suppliers from Germany, Italy, England and other European countries, and Asia. An in-house procurement and development team in Hong Kong analyses the market and develops new products. At the same time, CARSON invests in their own engineers and tool forms in order to maintain a top level of quality.
Quality
Carson reviews
Countless loyal customers and brand aficionados characterise the CARSON brand and models. Also the working committee "child´s play + toy is particularly enthusiastic about the entry line CARSON RC SPORT and has been here a number of products won the spiel gut® Seal.
The products regularly receive numerous further medals and awards in reader polls and by the specialised press. The Made in Germany, Made in Europe or Developed in Germany awards stand for quality and innovation taking place in major areas of the product range.