Military model vehicles 1:24 1:48
---
Sort by:
Top sellers
New
Price ascending
Price descending
Filter
---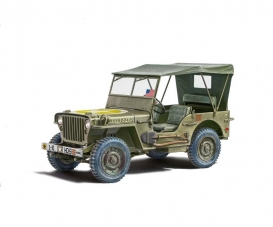 Military model vehicles 1:24 1:48
1:24 Jeep Willys MB 80th Anniversary
510003635
€39.99
Article number: 510003635 Product: 1:24 Willys Jeep MB "80th Anniversary" In 1940, after World War II had broken out, the US general staff ordered various factories to design a light multipurpose vehicle with all-wheel drive. The American Bantam Company, Willys Overland, and Ford Motor Co. competed with each other. Willys prototype was chosen, which, after an initial run of 1500 vehicles, went into mass production at the beginning of1941 and reached a total output of 640.000 units out of which 277.000 pieces were produced by Ford under a licensing agreement. This shows that the Jeep was the most widely produced light vehicle of the war industry during World War II. Even after 80 years, the "Willys" is still considered today, to be the four-wheeled vehicle which is most symbolic of the American army during the Second World War, and thanks to its enthusiasts and collectors, there are many examples of the jeep, still in perfect working order. Detailed plastic kit
More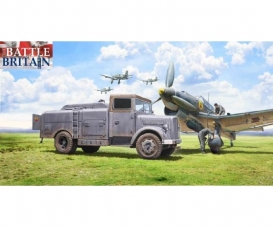 Military model vehicles 1:24 1:48
1:48 Sd.Kfz.385 Tankwagen Bat.o.Brit.
510002808
€31.99
Article number: 510002808 Product: 1:48 Sd.Kfz.385 Tankwagen Bat.o.Brit. Model Dim.: 12,0 cm "Battle of Britain 80th Anniversary" DECALS SHEET FOR 4 VERSIONS - COLOR INSTRUCTION SHEET FIGURES NOT INCLUDED - AIRCRAFTS NOT INCLUDED The Opel Blitz was the main truck used by German forces during the Second World War. It was deployed extensively on all fronts in huge numbers and considered to be the 'working mule' of the Wehrmacht. Due to its sturdy frame, the robust system of rigid axles with leaf springs and the twin-wheels on the back, the Opel Blitz was able to carry a payload of over 3 tons. The 3600 cc. engine was easy to maintain and provided 75 hp. Largely due to its great flexibility it was the developmental platform for several specialist models and versions such as the Kfz. 385 'Tankwagen' which was deployed as the principal refilling truck of the Luftwaffe.. The vehicle was equipped with a rear fuel tank, pumping system and a simplified cabin with fabric roof. The exhaust system and silencer was repositioned to allow for the safe refueling of aircraft. Detailed plastic kit
More