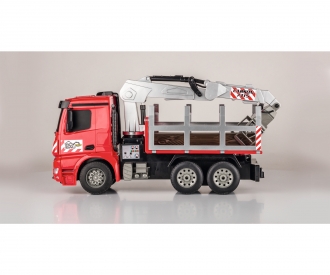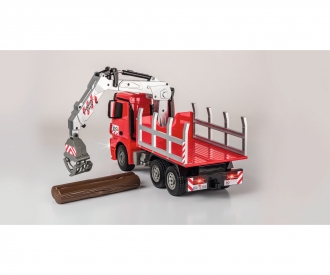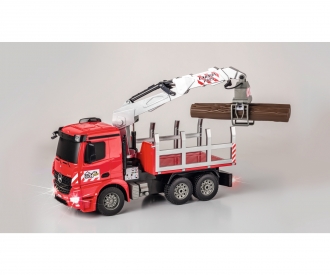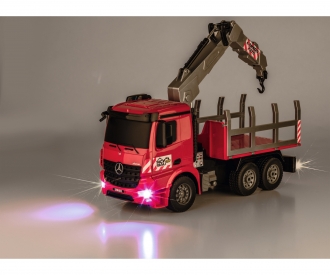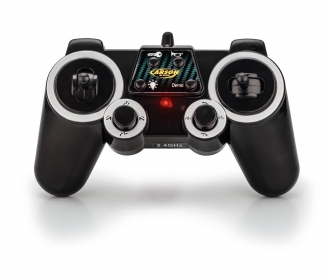 Quantity:
1
2
3
4
5
6
7
8
9
10
11
12
13
14
15
16
17
18
19
20
21
22
23
24
25
26
27
28
29
30
This item can only be delivered to the following countries: All EU countries, United Kingdom, Switzerland, Norway, Iceland, Liechtenstein
Article number: 500907315
Product: 1:20 Arocs Mercedes TimberTruck 100% RTR

The new CARSON Mercedes-Benz Arocs timber transporter is a great forestry workhorse to add to your fleet of CARSON vehicles. Like all
vehicles from the CARSON RC Building and RC City lines, the transporter also has the TOP features such as switchable light with flash function, engine noise and a horn, as well as start button and energy-saving function. A particular feature is the loading crane with grab that can be controlled via the interference-free 2.4 GHz transmitter. The crane arm can thus be raised and lowered and, in addition, the jib can be controlled. The grab is also radio-controlled and can load and unload the timber Transporter with the logs supplied. The whole crane arm can be rotated through 180 degrees. The side gates can be manually lowered and raised. Furthermore, the vehicle has a manual fine steering adjustment. The charger, the power pack battery and the transmitter batteries complete the scope of delivery, making your CARSON timber transporter ready to go once the power pack is charged. Enjoy your new Mercedes-Benz Arocs timber transporter from CARSON RC-Sport.

Optional Accessories:
N° 500608189, NiMH spare battery 4,8V / 400 mAh



Included:
Fully assembled model, 2.4 GHz RC system, NiMH powerpack, USB charger, 2x transmitter batteries, with cargo and manual.

WARNING!
Not for children under 3 years. The packaging has to be kept since it contains important informations. Illustration may vary from actual product in the box. CARSON reserves the rights to change, update or replace any component at any time.

Features:
1. Gripper arm can be controlled via the remote control
2. Lifting arm can be rotated and tilted via the remote control
3. Horn, light, engine and driving sounds can be controlled via the remote control
4. Headlights and reversing lights with flashing function
5. 100% complete set with cargo
6. Interference-free 2.4 GHz remote control system

Technical data:
Length 395 mm
Width 160 mm
Height 235 mm
Weight 1116 g
Driving time 25 min