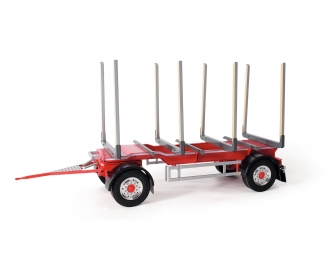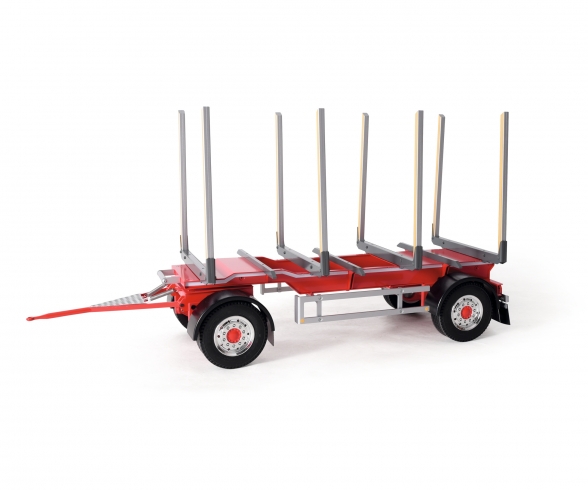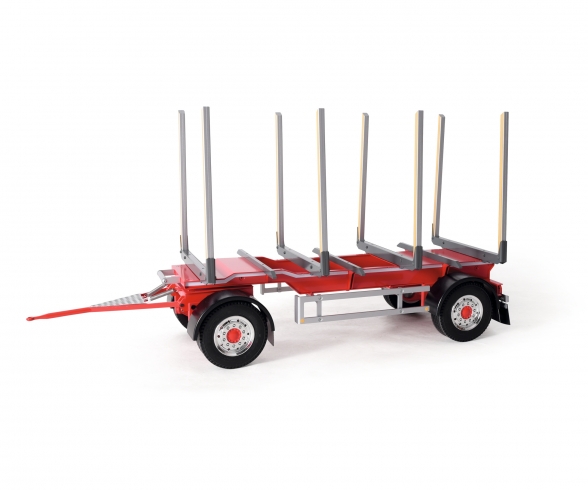 Quantity:
1
2
3
4
5
6
7
8
9
10
11
12
13
14
15
16
17
18
19
20
21
22
23
24
25
26
27
28
29
30
This item can only be delivered to the following countries: All EU countries, United Kingdom, Switzerland, Norway, Iceland, Liechtenstein
Article number: 500907622
Product: 1:14 2-axle Riedler stanchion trailer

The model of the 2-axle stanchion trailer from "Riedler Fahrzeugbau" reflects its appealing workmanship and appearance like the original, and makes the trailer an unmistakeable companion on the actual roads, just like the model on the course.
In combination with the TAMIYA Volvo FH16 wood transporter, this articulated truck becomes a workhorse, and is just like the original. The solid frame made from sheet steel in combination with the aluminium stanchions make a payload of up to 5,500g possible. In order to make the different wood lengths also lie against the stanchions in an optimum way, they are movable on the chassis frame and freely positionable.
An accessory kit is optionally available for upgrading the 2-axle stanchion trailer (Art. No.: 500907623, with spare wheel and holder, 2 compressed air tanks and a load securing kit).
For use on the TAMIYA Volvo FH16 tractor unit, the CARSON towing coupling with Art. No.: 500907182 is required and is fitted to the existing frame end crossmember.



Warning! Not suitable for children under 14 years.
Technical Details:

- Scale 01:14
- Torsionally rigid steel frame with sandwich structure
- Frame made from 3 and 1 mm sheet steel, laser cut and CNC bended
- Bogie made from sheet steel with sandwich structure
- Mounted bogie (adjustable) with sliding pads for easy manoeuvring
- Drawbar (one-piece) made from fibre-reinforced plastic with chequer plate application
- For easier trailer attachment, the drawbar is held at a coupling height of 75 mm via two springs.
- Stanchions (one piece) made from aluminium full material
- The stanchion holder can be released using two grub screws and re-positioned or removed in accordance with requirements.
- Semitrailer axle with dummy pneumatic springs
- Ball-bearing mounted chromium wheels with wide tyres
- Solid aluminium underride guard (left/right)
- Mudguard splash protection and bumper mud flap set
- Aluminium rear bumper, CNC milled
- 7-compartment rear lights, licence plate holder and working lights included
- Decoration set

Dimensions: LxWxH: 620 x 190 x 305 mm
Weight: 2,600g

- Optionally available: 500907623 Accessory kit for 2-axle Riedler stanchion trailer

*Official Licensed by Ernst Riedler Fahrzeugbau- und Vertriebs.m.b.H