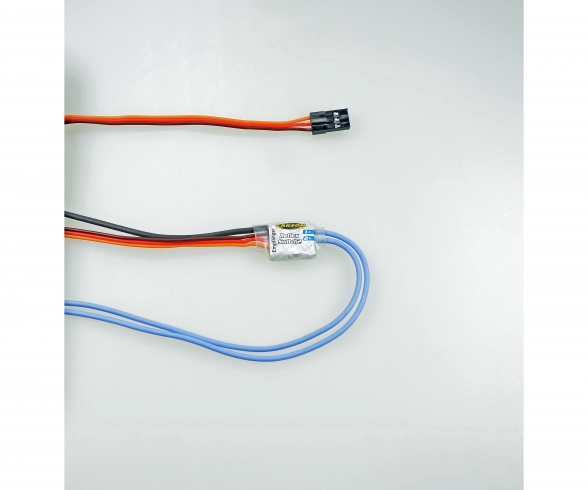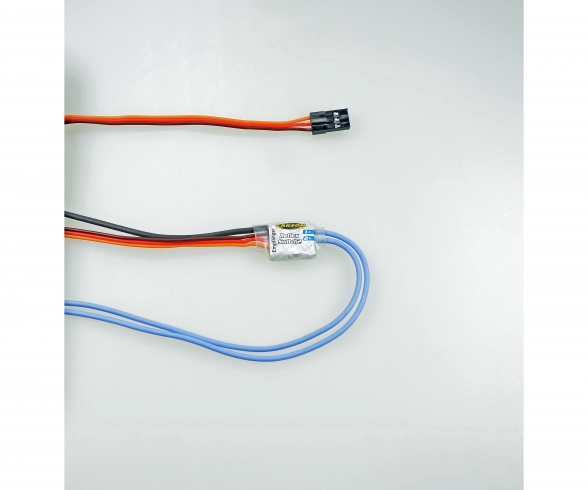 Quantity:
1
2
3
4
5
6
7
8
9
10
11
12
13
14
15
16
17
18
19
20
21
22
23
24
25
26
27
28
29
30
This item can only be delivered to the following countries: All EU countries, United Kingdom, Switzerland, Norway, Iceland, Liechtenstein
Article number: 500503060
Product: Reflex 6/14-channel switch 2 (2x 2.5 A)

The switch modules connect directly to your RC receiver and can be controlled via a button, switch or joystick. The position of the switch/button (up and down) and the duration (long and short) is detected. With the 2-way module, only the position is detected. When using buttons and switches, always ensure that they have a neutral position – a so-called 3-position switch/button (on/off/on). Each switch output features a memory function: This means that it stays activated until the switch/button is moved back to the neutral position. The switch module features two separate NPN outputs. Both outputs have a 200 mm blue cable, which must be connected to the negative pole of the load. Each switch output can switch a current of up to 2.5 A. The maximum permitted supply voltage is 16 V/DC. The module supplies itself with power via the servo cable. The black negative cable can be directly connected to the battery or a distribution terminal (item no. 500503062, available separately). At high loads, the black cable must be connected to the distribution terminal or the drive battery in order to prevent damage to the receiver.

For easy wiring we recommend:
(It is recommended to tin the cable ends.)
500503062 CARSON Reflex switch 2/4 power distributor


Reflex 6/14Ch Switch 2 (2x2,5A)
Warning! Not suitable for children under 14 years.
Technical data:
Input voltage: 4 – 8 V/DC (5.0-5.5 V/DC from receiver)
Input current: approx. 18 mA at 5.0 V/DC
Switch outputs: 2
Switch voltage: max. 16 V/DC
Switch current: max. 2.5 A per output
Connection cable Silicon cable
Outputs (blue): Cable length: 200 mm per cable, cable Ø: 0.25 mm²
Negative cable (black): Cable length: 200 mm, cable Ø: 0.5 mm²
Servo connection: Cable length: 300 mm, UNI connection system
Dimensions: 16 x 14 x 4 mm
Weight: approx. 10 g
Frequently bought together
Frequently bought together