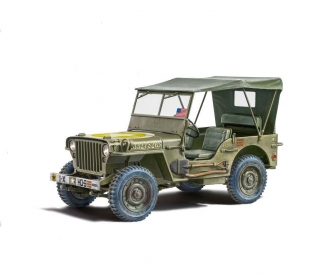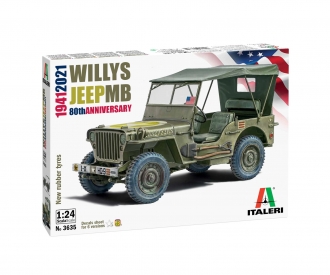 New
1:24 Jeep Willys MB 80th Anniversary
Article number: 510003635
Age recommendation: from 14 years
Quantity:
1
2
3
4
5
6
7
8
9
10
11
12
13
14
15
16
17
18
19
20
21
22
23
24
25
26
27
28
29
30
This item can only be delivered to the following countries: All EU countries, United Kingdom, Switzerland, Norway, Iceland, Liechtenstein
Article number: 510003635
Product: 1:24 Willys Jeep MB "80th Anniversary"

In 1940, after World War II had broken out, the US general staff ordered various factories to design a light multipurpose vehicle with all-wheel drive. The American Bantam Company, Willys Overland, and Ford Motor Co. competed with each other. Willys prototype was chosen, which, after an initial run of 1500 vehicles, went into mass production at the beginning of1941 and reached a total output of 640.000 units out of which 277.000 pieces were produced by Ford under a licensing agreement. This shows that the Jeep was the most widely produced light vehicle of the war industry during World War II. Even after 80 years, the "Willys" is still considered today, to be the four-wheeled vehicle which is most symbolic of the American army during the Second World War, and thanks to its enthusiasts and collectors, there are many examples of the jeep, still in perfect working order.
Detailed plastic kit