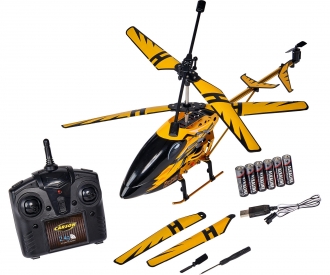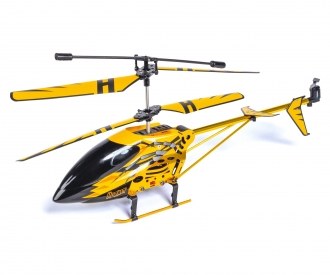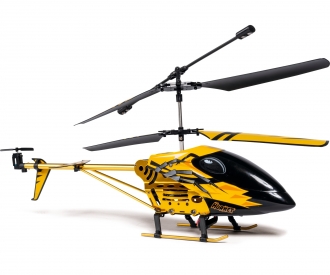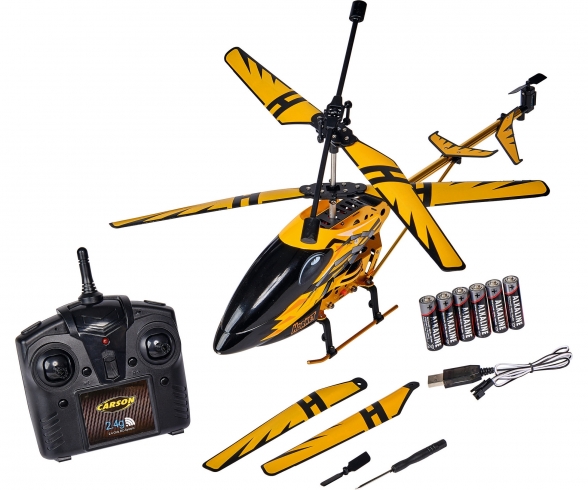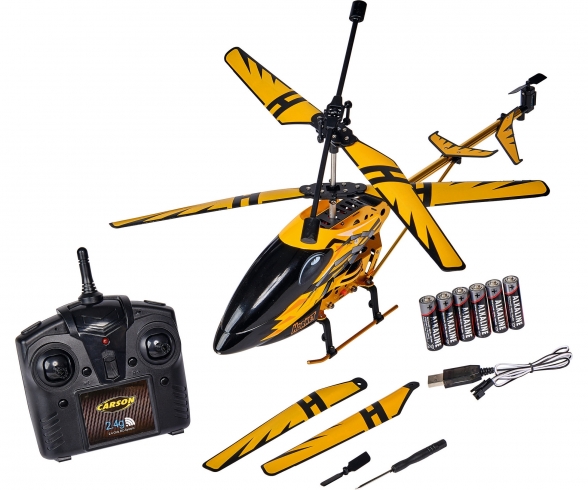 Quantity:
1
2
3
4
5
6
7
8
9
10
11
12
13
14
15
16
17
18
19
20
21
22
23
24
25
26
27
28
29
30
in stock, Delivery time 1-3 working days within Germany
This item can only be delivered to the following countries: All EU countries, United Kingdom, Switzerland, Norway, Iceland, Liechtenstein
Article number: 500507139 Product: Easy Tyrann Hornet 350 2.4GHz 100% RTF
The new Easy Tyrann Hornet 350 coaxial helicopter from Carson, with built-in flight stabilisation (gyro), is the head-turner in the model plane sky. The model is elaborately printed in a hornet design and, owing to its many gold-anodised aluminium components, extremely robust. To make it as simple as possible for beginners as well, the chopper has an automatic take-off and landing function which is controlled via a trouble-free 2.4 GHz transmitter. In addition, the remote control has a high/low switch which gives the chopper more power when needed or makes flying in low mode easier for beginners. Lots of colour-changing LEDs make for a cool look and simplify navigation in the dark. Because all components are fully supplied, the Hornet is ready to fly once the built-in battery is charged. Buy, charge and fly! Have fun with your Easy Tyrann Hornet 350 from CARSON!
Features:
- Robust chassis design
- Gold-anodised aluminium components
- Automatic take-off and landing function
- Speed selection via high/low switch
- With LEDs that change colour and a white LED searchlight
Included: Fully assembled helicopter, 2.4 GHz remote control, 3 CH, incl.Gyro, transmitter batteries, detailed operating instructions.
Safety note: Not for children under 12 years. The packaging has to be kept since it contains important informations. Illustration may vary from actual product in the box. CARSON reserves the rights to change, update or replace any component at any time.
Features:
- 100% Ready to fly - 2.4 GHz RC-System
- boostfunction for more acceleration
- start and landing function controllable via transmitter
- trimm function for left and right
- Stable stationary
Technical data:
Length 460 mm
Rotor-diameter 335 mm
Flightweight approximately 200 g
Flying time 9 min