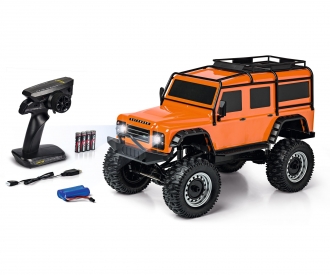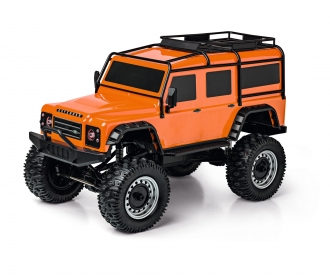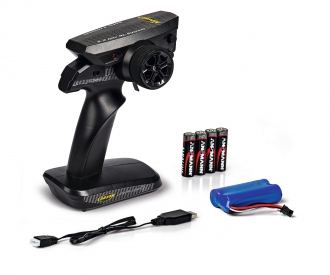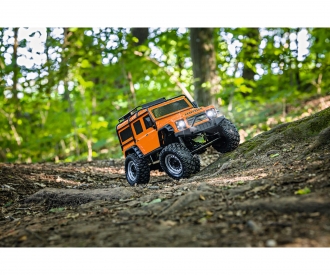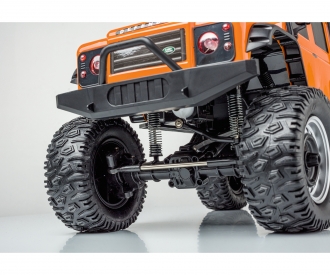 https://video.simba-dickie.com/embed/de/land_rover_defender_rc_gelaendewagen_500404171/?autoplay=1&quality=720p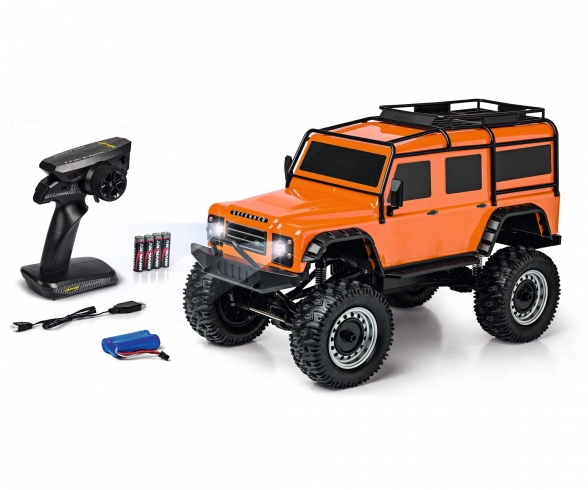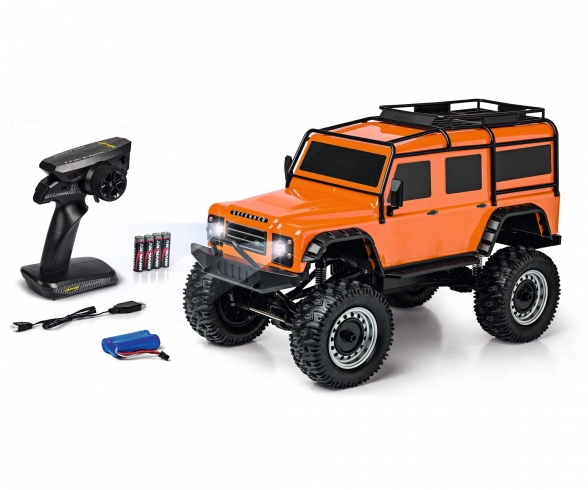 1:8 Land Rover Defender 100% RTR orange
Article number: 500404171
Age recommendation: from 8 years
€180.00
incl. VAT
free shipping
(within the EU)
Quantity:
1
2
3
4
5
6
7
8
9
10
11
12
13
14
15
16
17
18
19
20
21
22
23
24
25
26
27
28
29
30
Delivery time 1-3 working days within Germany
This item can only be delivered to the following countries:
All EU countries, United Kingdom, Switzerland, Norway, Iceland, Liechtenstein
Product information
Art.Nr.: 500404171
Art.bezeichnung: 1:8 Land Rover Defender 100% RTR orange

Der Land Rover Defender Rock Crawler von CARSON ist der perfekte Geländewagen! Mit seiner schlagfesten und robusten Karosserie ist das Fahrzeug für das Gelände perfekt geeignet. Der Land Rover ist voll gefedert und mit extrem verschränkbaren Radachsen versehen, um beinahe jedes Hindernis überwinden zu können. Angetrieben wird das Fahrzeug an der Vorder- und Hinterachse. Dank der LED Beleuchtung an der Vorderseite des Land Rovers sind Fahrten bei Dämmerung kein Problem. Die Fahrzeit beträgt 20 Minuten. Geladen wird das Fahrzeug via USB. Das Fahrzeug hat eine Geschwindigkeit von ca. 20 km/h.
Viel Spaß mit deinem CARSON 1:8 Land Rover Defender 100% RTR orange!

Passender Ersatzakku 500608255
Fahrfertiges Modell, 2,4GHz Fern-
steueranlage, LiIon Fahrakku 7.4V
1200 mAh, USB-Ladegerät, 4 x AA
Senderbatterien, Anleitung.

Passender Ersatzakku 500608255
ACHTUNG!
Für Kinder unter 3 Jahren nicht geeignet. Die Verpackung muss aufbewahrt werden, da sie wichtige Informationen enthält. Die Abbildungen können sich von dem in der Verpackung befindlichen Produkt unterscheiden. CARSON behält sich das Recht vor, Verbesserungen und Änderungen zu jeder Zeit vorzunehmen.

---
Product details
Technische Details:
1. Schlagfeste und robuste Karosserie
2. LED Beleuchtung vorne
3. Extrem geländegängig
4. 4WD mit angetriebener Vorder- und Hinterachse
5. Voll gefedert
6. Extrem verschränkbare Radachsen

Technische Daten:
Länge 500 mm
Breite 260 mm
Höhe 290 mm
Radstand 305 mm
Bodenfreiheit 70 mm
Fahrzeit 20 min
Geschwindigkeit 20 km/h
Gewicht 1790 g

Passender Ersatzakku 500608255
Downloads