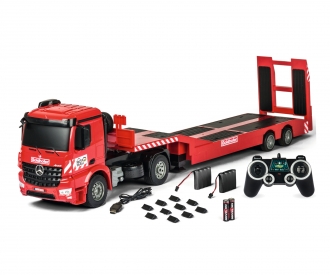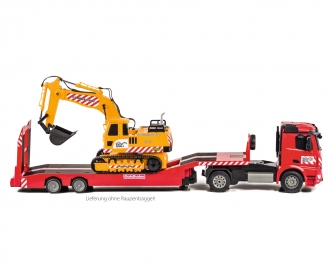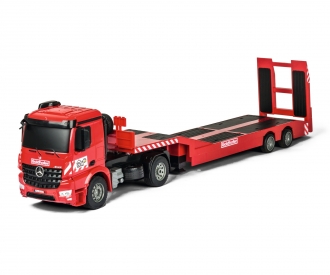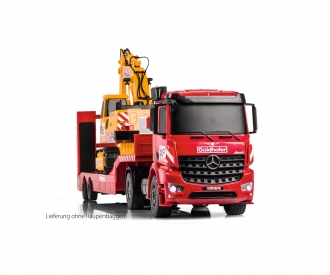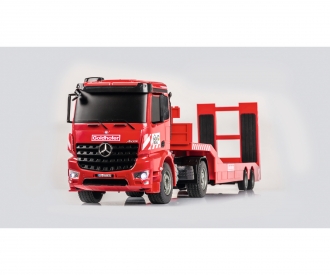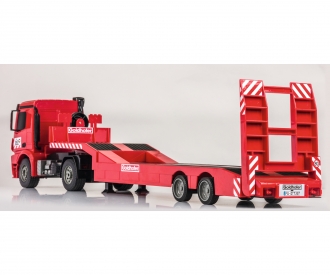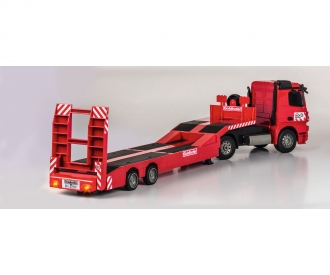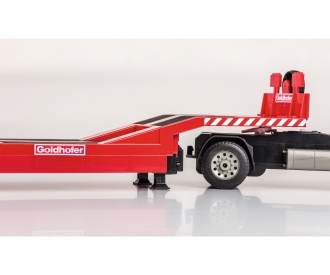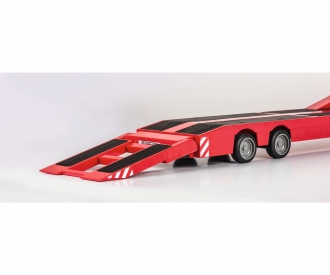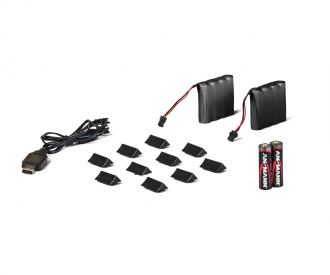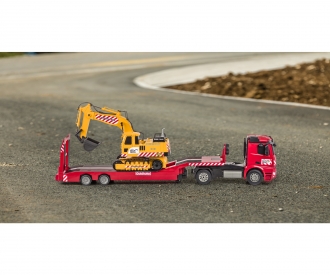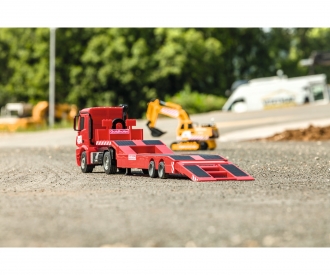 https://video.simba-dickie.com/embed/de/mb_arocs_goldhofer_500907307_de_en/?autoplay=1&quality=720p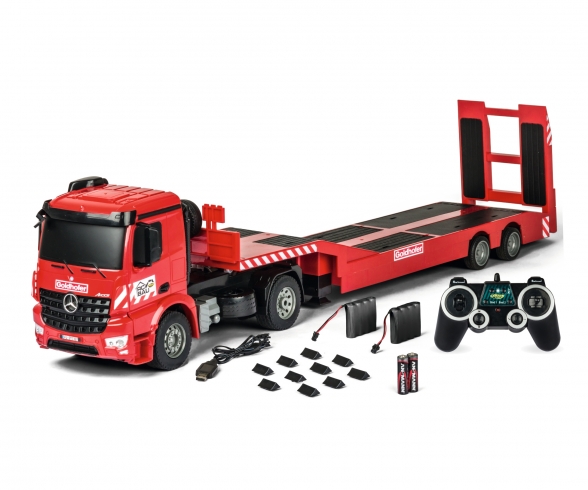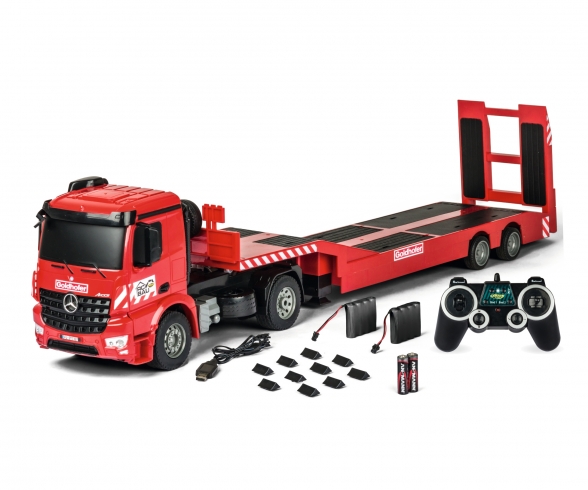 1:20 MB Arocs Goldhofer 2.4G 100% RTR
Article number: 500907307
Age recommendation: from 8 years
€110.00
incl. VAT
free shipping
(within the EU)
Quantity:
1
2
3
4
5
6
7
8
9
10
11
12
13
14
15
16
17
18
19
20
21
22
23
24
25
26
27
28
29
30
Delivery time 1-3 working days within Germany
This item can only be delivered to the following countries:
All EU countries, United Kingdom, Switzerland, Norway, Iceland, Liechtenstein
Product information
Art.Nr.: 500907307
Art.bezeichnung: 1:20 MB Arocs Goldhofer 2.4G 100% RTR

Der neue CARSON Mercedes-Benz Arocs mit Tieflader im Goldhofer-Style verleiht Deinen CARSON Baumaschinen neue Mobilität und
hat viele nützliche Funktionen. Wie alle Baufahrzeuge aus der CARSON RC-Bau Linie hat die Zugmaschine natürlich auch die TOP-Features,wie zuschaltbares Licht mit Blinkfunktion, Motorsound und einer Hupe. Eine Besonderheit ist die über den störungsfreien 2,4 GHz Sender steuerbare Sattelplatte, die das An- und Abkoppeln des Tiefladers ermöglicht. Zudem ist der Anhänger mit einem eigenen Akku versehen und kann somit auch ohne Zugmaschine über die Fernsteuerung bedient werden, so kann man die Sattelstützen hoch- und runterfahren sowie die Auffahrrampe steuern. Das verbaute Rücklicht funktioniert im Zusammenspiel mit der Zugmaschine automatisch und muss nicht separat gesteuert werden. Der USB-Steckerlader mit zwei Ladeanschlüssen, die zwei Fahrakkus und die Senderbatterien runden den kompletten Lieferumfang ab und machen Deinen Tieflader nach dem Laden der Fahrakkus fahrbereit. Viel Spaß mit Deinem neuen Mercedes-Benz Arocs mit Goldhofer Tieflader von CARSON RC-Sport.

Optionales Zubehör:
500608240 - NiMH Ersatzakku: 4,8V / 400 mAh

Fahrfertig aufgebautes Modell,
2.4GHz Fernsteueranlage, 2x Fahrakku
4,8V/400mAh NiMH. USB Ladegerät, 2x
Senderbatterien, Anleitung.

Passender Ersatzakku 500608240
ACHTUNG!
Für Kinder unter 3 Jahren nicht geeignet. Die Verpackung muss aufbewahrt werden, da sie wichtige Informationen enthält. Die Abbildungen können sich von dem in der Verpackung befindlichen Produkt unterscheiden. CARSON behält sich das Recht vor, Verbesserungen und Änderungen zu jeder Zeit vorzunehmen.

---
Product details
Technische Details:
1. Motor- und Fahrsound
2. Über Sender steuerbare Sattelstütze und Auffahrrampe
3. Scheinwerfer und Rücklichter mit Blinkfunktion über Sender steuerbar
4. Hupe über Sender steuerbar
5. Anhänger mit eigener Stromversorgung
6. Störungsfreies 2,4 GHz Fernsteuersystem

Technische Daten:
Länge 1000 mm
Breite 155 mm
Höhe 185 mm
Fahrzeit 30 min
Gewicht 1350 g

Passender Ersatzakku 500608240



Spare parts
Downloads
Frequently bought together
Frequently bought together