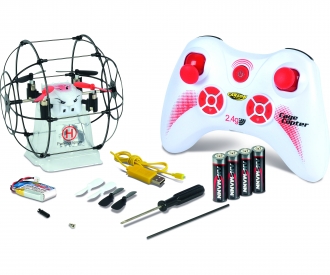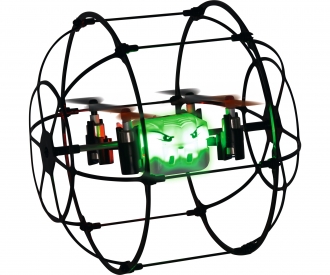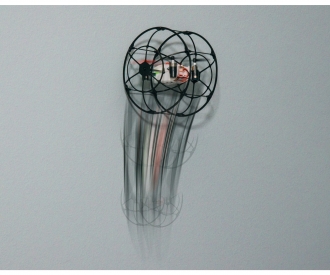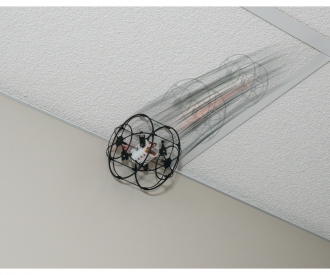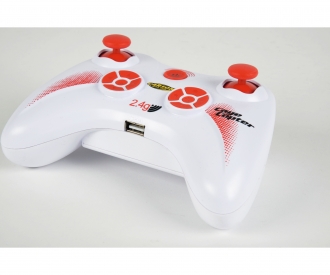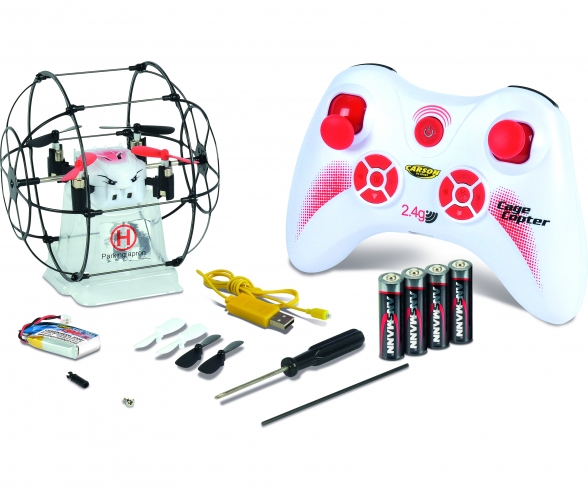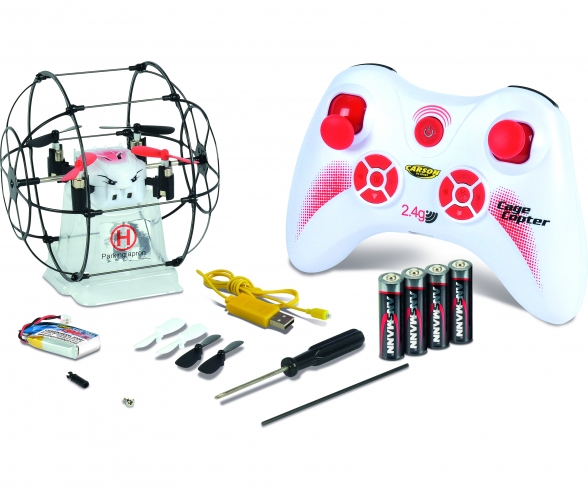 Quantity:
1
2
3
4
5
6
7
8
9
10
11
12
13
14
15
16
17
18
19
20
21
22
23
24
25
26
27
28
29
30
This item can only be delivered to the following countries: All EU countries, United Kingdom, Switzerland, Norway, Iceland, Liechtenstein
Article number: 500507090
Product: X4 Cage Copter GHz 100% RTF

Awarded with the spiel gut® certification for particularly good and durable toys*

The CARSON Cage Copter is a stunt machine for the smallest space. Surrounded by a highly flexible screen bar cage, the small quadcopter can roll near walls and ceilings and perform incredible manoeuvres. In free flight, flips and flops can be performed via the stunt function. The four rotors are always well-protected. The coloured LEDs make this tiny flyer look cool and facilitate navigation. The packaging contains the handy parking socket which is also required for resetting the gyroscope before take-off. The 2.4 GHz transmitter has a handy USB charging connection with which the Cage Copter can also be charged on the way. Since everything necessary for operation is included in the delivery, you can show off your flying skills straight after charging the battery.
Have lots of fun with your CARSON X4 Cage Copter!

Optional Accessories:
500608165 Battery 3.7 V/200 mAh

Included:
Flight-ready model, 2.4 GHz remote control unit, LiPo flight battery, USB charger, 4 x AA transmitter batteries, spare rotor blades, toolkit, instruction manual.



Safety note:
Not for children under 8 years. The packaging has to be kept since it contains important informations. Illustration may vary from actual product in the box. CARSON reserves the rights to change, update or replace any component at any time.


Features:
1. Stunt cage
2. Aerobatics function
3. USB charging function on remote control
4. Smart gyroscope function
5. LED position indicators
6. Seamless 2.4 GHz remote control system


Technical data:
Width 95 mm
Rotor-Diameter 37 mm
Flying time 8 min
Top Speed 15 km/h
Flightweight 35 g