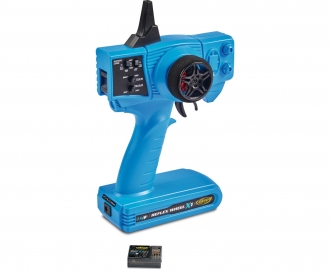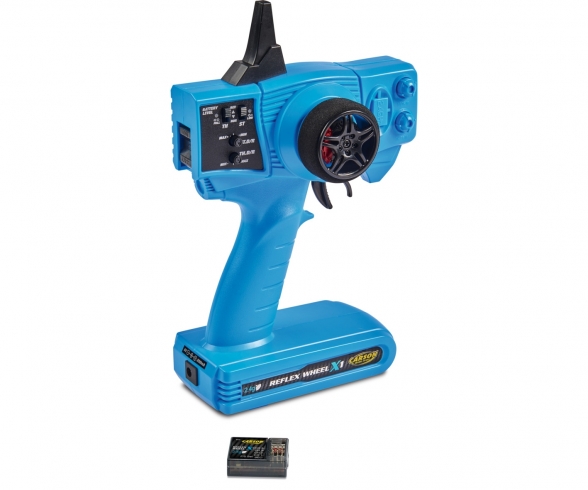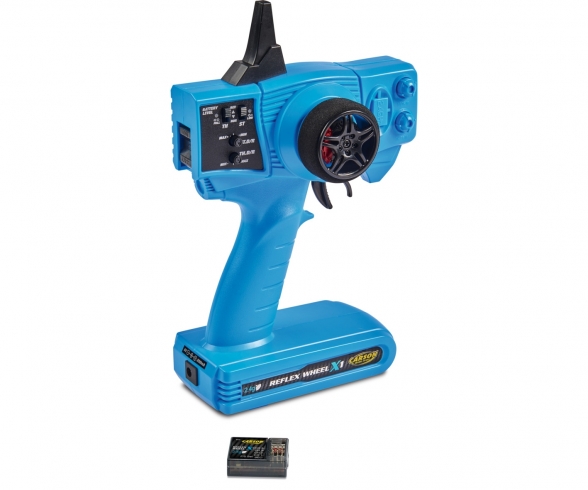 FS Reflex X1 2-channel 2.4G Blue Version
Article number: 500500058
Age recommendation: from 14 years
Quantity:
1
2
3
4
5
6
7
8
9
10
11
12
13
14
15
16
17
18
19
20
21
22
23
24
25
26
27
28
29
30
This item can only be delivered to the following countries: All EU countries, United Kingdom, Switzerland, Norway, Iceland, Liechtenstein
Article number: 500500058
Product: FS Reflex X1 2-voies 2.4G Blue Version

The Reflex X1 can be operated on two continuously adjustable, fully proportional channels. It features a servo reverse for both channels, which reverses the direction of the vehicle to make it easier to control.
There is also an adjustable trimmer for the throttle and steering system, as well as an adjustable dual rate function (servo travel limit), allowing you to configure the remote control to your needs.
In addition, the vehicle features a programmable fail-safe function.
The CARSON Reflex X1 is also compatible with Tamiya products. The battery status is shown via an LED.

Rececommended Acessories:
N° 500609042 - HR6 Accumulateur NiMh AA
Included:
2-channel 2.4 GHz transmitter, 4-channel 2.4 GHz receiver and handbook
Safety note:
Not for children under 14 years. The packaging has to be kept since it contains important informations. Illustration may vary from actual product in the box. CARSON reserves the rights to change, update or replace any component at any time.

Features:
1. Two infinitely variable fully proportional channels
2. Servo reverse for both channels (reversal of direction of travel)
3. Trimming function for gas and steering
4. Dual rate for both channels (travel limiting of the servos)
5. Programmable failsafe
6. Tamiya kit compatible


• Operating voltage of the transmitter 4.8 – 6V
• Two infinitely variable fully proportional channels
• Servo reverse for both channels (reversal of direction of travel)
• Trimming function for gas and steering
• Dual rate for both channels (travel limiting of the servos)
• Power supply of the receiver up to 11V (without a BEC)
• Built-in failsafe
• Uni connector system J/R
• Charging socket (positive pole inside)
• Battery status display via LED
• 4-channel mini-receiver 36x25x15 mm
Frequently bought together
Frequently bought together