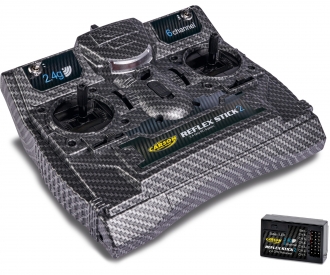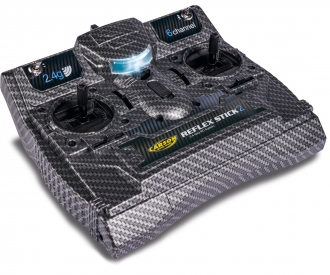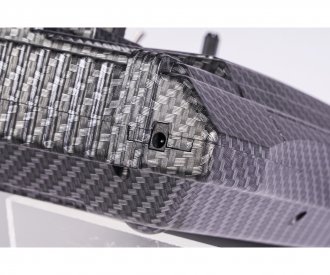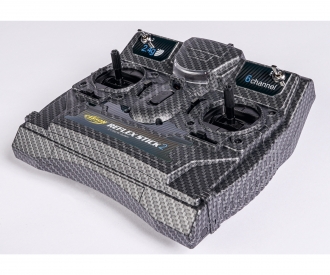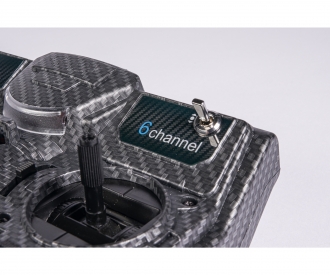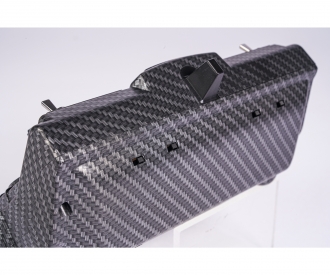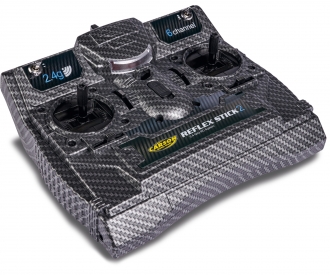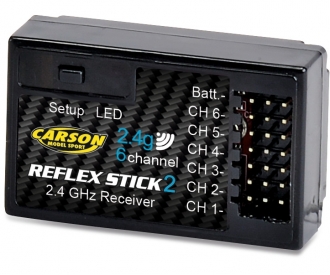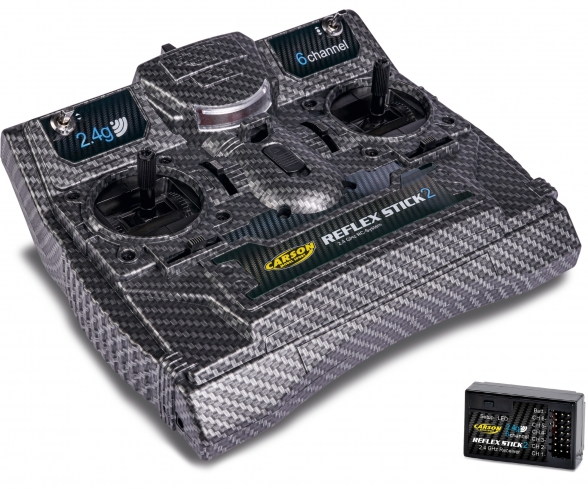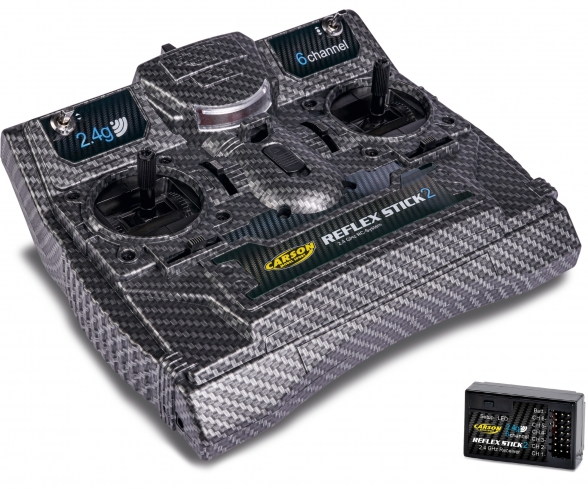 Extreme Carbon Reflex Stick II 2.4G 6CH
Article number: 500501007
Age recommendation: from 14 years
Quantity:
1
2
3
4
5
6
7
8
9
10
11
12
13
14
15
16
17
18
19
20
21
22
23
24
25
26
27
28
29
30
This item can only be delivered to the following countries: All EU countries, United Kingdom, Switzerland, Norway, Iceland, Liechtenstein
Article number: 500501007
Product: FS Reflex Stick II 2.4GHz 6CH Carbon


Classic in a new Look!
The Reflex Stick II from Carson is a low-cost, modern and technically high-quality 6-channel remote control system for universal use with RC vehicles and ships. With the Reflex Stick II you can independently control 6 channels via 2 joysticks and 2 switches (1x pushbutton/1x switch). The 6-channel system is fully compatible with all TAMIYA MFC and DMD units, as the trimming is done by slider. Now the remote-control system is available in the chic new carbon optics.

Recommended equipment :
N° 500501537 Receiver 6 channel
N° 500609042 AA battery set
N° 500503060 Reflex 6/14Ch Switch 2 (2x2.5A, max. 16V)
N° 500503061 Reflex 6/14Ch Switch 4 (4x2.5A, max. 16V)
N° 500503062 Reflex Switch 2/4 power distr.

Required equipment:
N° 500609044 non Set (AA)
Included:
6-channel 2.4 GHz remote control, 6-channel receiver and manual

Safety note:
Not for children under 14 years. The packaging has to be kept since it contains important informations. Illustration may vary from actual product in the box. CARSON reserves the rights to change, update or replace any component at any time.

Warning! Not suitable for children under 3 years due to small parts. Choking hazard!
Technical details:
1. Seamless 2.4 GHz remote control system
2. 6 controllable channels
3. 2.4G Servo reverse (reverses the direction of travel)
4. 100% compatible with TAMIYA MFC 01/02/03 and DMD unit
5. trim function
6. Includes charging socket

Technical data:
• 6 V remote control operating voltage (4 AA batteries)
• 2.4G FHSS system (Frequency Hopping Spread Spectrum)
• 2.4G Servo reverse (reverses the direction of travel) and trim function for channels
• 1x ON/OFF/ON button, 1x ON/OFF/ON switch
• 4.8 – 6 V power supply for the BEC receiver
• Graupner J/R plug system